Go Baby Go is a program that cannot exist without sponsorship funding. 
Here are two ways that you are able to support a family with a Go Baby Go car:
1. Donation of a Go Baby Go Car for Home Use:
Working with organizations that provide front line services to young children living with disabilities, we will identify children who will be gifted a Go Baby Go car for personal use in their homes and communities. Donation of a Go Baby Go car will be to families of children who are readier for independent play that does not need to be supervised one on one by a physiotherapist or support worker.
Donations provide a fully functional vehicle that has been specifically modified for the child's direct needs for being able to independently sit in and control the vehicle on their own.
Sponsor Recognition – For your support and sponsorship, your organization will be able to brand the Go Baby Go car with your organizational logo and you will be invited to:
Participate in the Go Baby Go car modification workshop and help adapt the vehicle to fit the needs of the child/children who will be receiving vehicles; and
 Gift the Go Baby Go car to the child/family you are supporting and see the impact that your donation has on the child's life.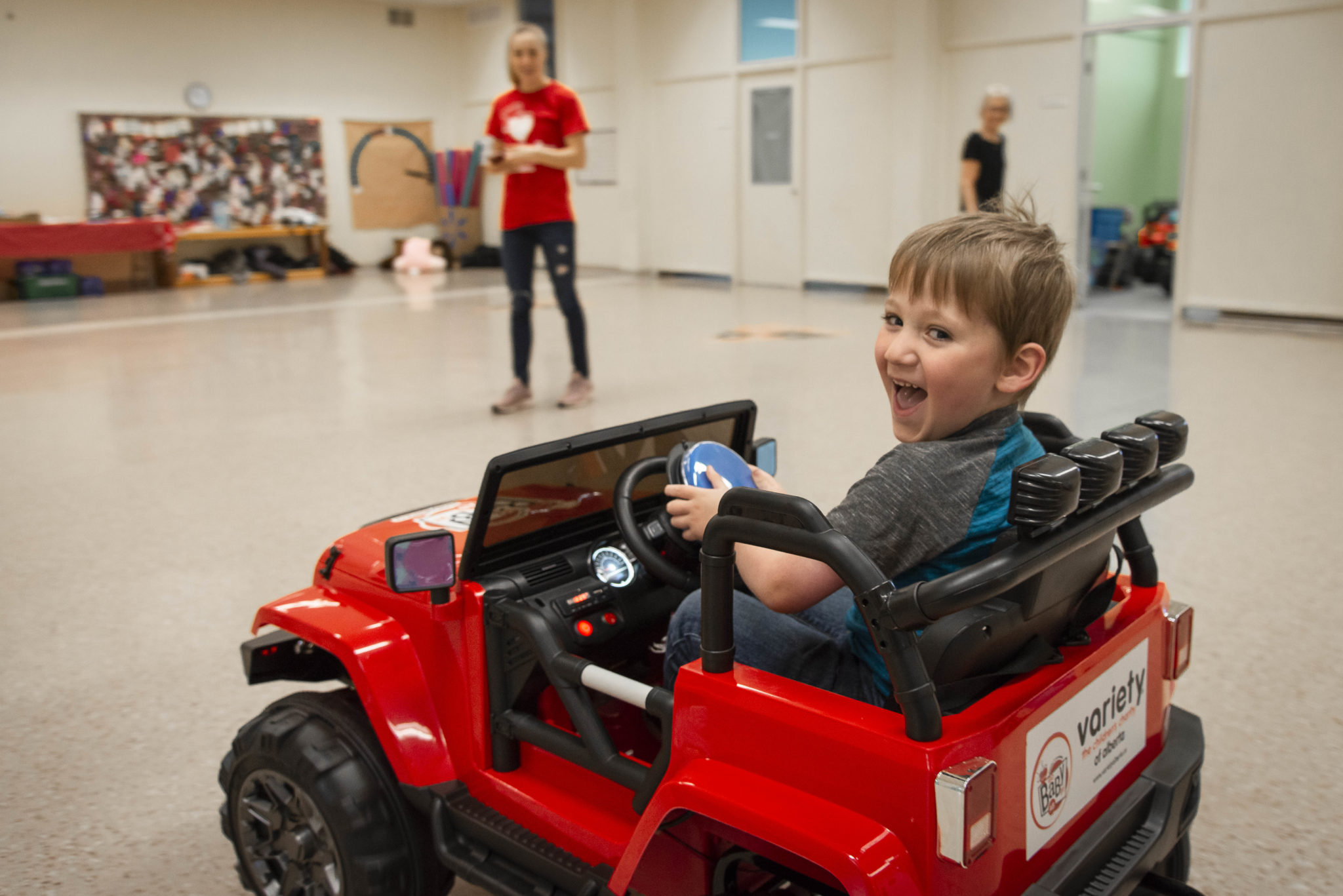 2. Community Go Baby Go Program:
Based on the needs of the community and in conjunction with a community disability serving partner, a formalized Go Baby Go program will be created to support a variety of children living with specialized needs to help develop their cognitive, social and physical development. A donation towards the Go Baby Go community program supports participation of up to five children for one year. Costs help cover the purchase and modification of one vehicle including all communicative devices and accessibility modifications for participating children; rental of gym and storage costs for the monthly workshops; functional assessments and ongoing support from physiotherapists and program delivery costs.
A formal community program can support up to 5 vehicles that will be shared among 20 children over a 6-hour time frame once a month. This will allow children to spend an hour on the vehicle each month alongside their physiotherapist and/or support worker who will work with the child independently to begin learning how to maneuver the vehicles based on their independent needs and abilities.
Participation in the program will be geared to children who have complex needs and require therapist engagement and support to help with their body and spatial awareness.
Contact us to learn how you can donate and support children with a Go Baby Go Car.