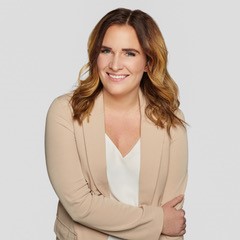 Ottilie Coldbeck
Director
From a small town in Wales, U.K. to the big city atmosphere of Calgary, Ottilie's experience with diverse cultures helped shape her love of storytelling and passion for community investment. 
As she became more familiar and intrigued with Canadian culture, Ottilie realized her potential is often reached outside of her comfort zone, and challenges herself to embrace each new opportunity as an adventure. 
Ottilie holds a Bachelor of Communications – Public Relation degree with a minor in marketing from Mount Royal University. Having worked for a boutique PR firm in Calgary, Ottilie has experience working with a number of diverse and exciting organizations to further their communications initiatives, including CMLC, Edo Japan, Swoop and Ford of Canada.
Whether it's hiking in the mountains or walking her dog, Ottilie can often be found outside enjoying the diversity and excitement that Alberta has to offer.