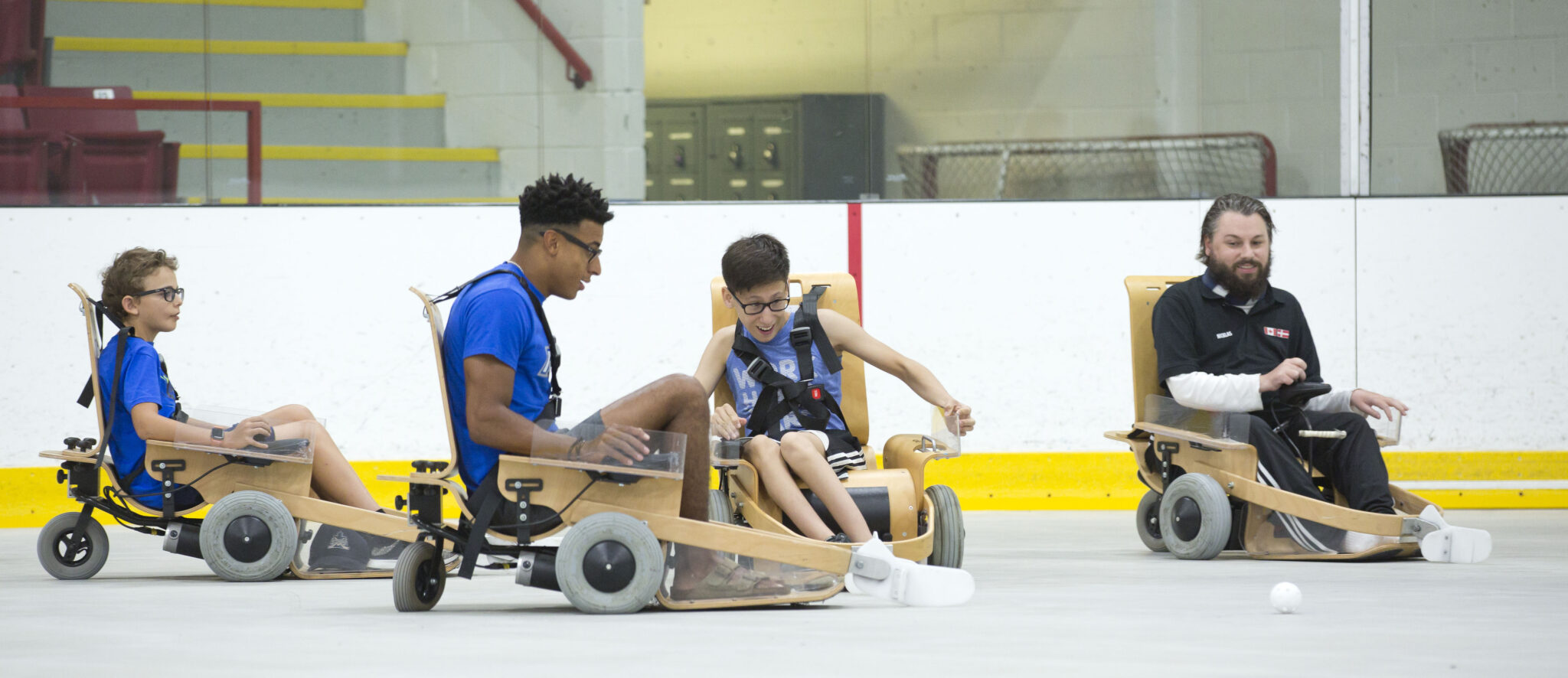 How to Play
Volt is a unique adaptation to the sport of hockey as it allows participants who have more complex needs – particularly those with limited upper mobility, to be able to play the sport that extends beyond other adaptive variations of hockey today (including sledge hockey and wheelchair hockey). Volt is played as a 3 vs 3 game on an indoor gym or court using specially designed hockey sport chairs. The chairs are battery operated and are controlled with a joystick. This allows virtually any person living with mobility limitations the ability to play the sport of hockey independently.
Volt opens the door for more children and community members to play a sport that they otherwise would not be able to because of physical limitations due to their disability. Alberta is the second province in our country to host Volt. We believe that every child should have an opportunity to play sports regardless of what their disability may be.
Note: Though Volt was created to bring a new adapted sport to the disability community and open up new opportunities persons with disabilities to engage in sport, we welcome all community members to sign up for our Volt recreation league regardless of ability.
Volt in Action:
2023 Registration Details:
Volt has launched!
Sign up for sessions in 2023 in Calgary (CALGARY FLAMES DIVISION), Edmonton, and Fort McMurray. Sessions run for 8 weeks. The one-hour sessions focus on skill building, fun games, player development and Volt hockey game. Cost is $200 with eligibility for KidSport funding (you must apply directly to them: Kidsport Calgary; KidSport Edmonton; KidSport Wood Buffalo). 
We also have limited drop-in availability. The fee for a drop-in session is $30. Sign up for a drop-in session or if you have any questions about drop-in sessions, email volt.coordinator@varietyalberta.ca. 
Please use the form below to get on our mailing list so you can be informed of exact start dates, locations, and payment details. We can't wait to see you there! *If you do not receive a message from us in the next 3 business days please check your junk mail or email volt.coordinator@varietyalberta.ca.
NOTE: Though Volt was created to support individuals with disabilities and/or specialized needs, it is an inclusive sport. We accept family registrations (e.g., siblings that may or may not have disabilities) so siblings and/or friends can play together.
Please reach out to us with any questions you may have!